Surgical Research Officer, SERT Institute.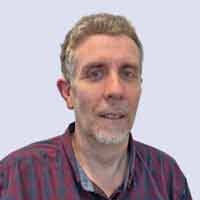 I am the SERT Institute Research Officer. My role is to provide support for research projects undertaken in the surgical departments at the Royal North Shore Hospital. In that role, I assist with study design, human research ethics applications, funding applications, statistical advice and the editing of manuscripts. An important part of my job is supporting junior surgical trainees with research projects.
I have worked for over 30 years on various research projects which have involved the study of bone pathophysiology and biomechanics. More recently, my research interests have included transcriptomics and bioinformatics. I have an Honours degree in Genetics (Edinburgh University), a Masters in Bioengineering (Strathclyde University) and a DPhil in bone and joint pathology (Oxford University).
Whilst I was in the United Kingdom, my research was based mainly in Oxford — at the John Radcliffe Hospital and Nuffield Orthopaedic Centre. In 1997, I took up a 3-year fellowship at Melbourne University, where I was involved in studies which examined the pathophysiology of osteoporosis. On completion of this fellowship, I worked in Melbourne at the St Vincent's and Prince Henry's Institutes of Medical Research. In 2014, I took up a position in Sydney at the Garvan Institute of Medical Research. I have published over 110 papers and supervised 5 PhD students to the completion of their degrees. I have held 3 NHMRC project grants and sat on NHMRC grant review panels.
I have extensive experience in the design of experimental studies. I am currently enrolled in a Masters degree in Biostatistics at Macquarie University, Sydney. I have authored a series of research guides which are now available on the SERT Institute website.
My office is located on level 4 of the Acute Services Building, Ward 4B (Department of Anaesthetics).
My e-mail is Julian.Quinn@health.nsw.gov.au and phone contact is 99264522.
I am usually in the office 9 am-5 pm Monday, Tuesday, Friday.